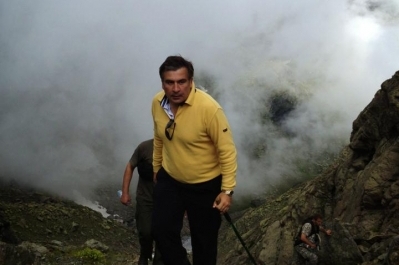 Mikheil Saakashvili
Mikheil Saakashvili was born in Tbilisi, Georgia on December 21, 1967, the eldest of three brothers. After graduating with honors from the prestigious Institute of International Relations of Kiev University he moved to the U.S. to attend Columbia University in New York City as an Edmund S. Muskie Fellow. He received an LL.M. from Columbia Law School in 1994. From 1995 to 1996 he studied law at the doctoral level at The George Washington University National Center of Law in Washington, D.C.
In 1995 he was admitted to the New York Bar and practiced commercial law for nearly a year at Patterson Belknap Webb & Tyler in NYC. In 1995 he became the first former Soviet citizen to obtain a prestigious diploma in Comparative Law on Human Rights from the International Institute of Human Rights in Strasbourg.
As a member of the Human Rights Committee of Georgia he secured prisoner exchange agreements between Georgians and Abkhazs and also between Armenians and Azeris captured in the fighting for Nagorno-Karabakh. In 1992 at the Norwegian Institute of Human Rights, he organized a conference between Georgians and South Ossetians, which resulted in signing the first ceasefire agreement.
Biography
Photo gallery
Video Gallery
Go to Top